---
Audiovox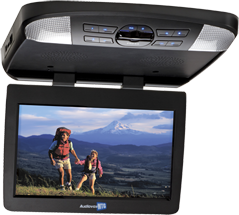 Audiovox's 10 and 12 inch widescreen LED backlit overhead video system with built in DVD player is perfect for any family on a budget who is looking for ways to provide hours hours of entertainment for their rear seat passengers.
Switchable 16:9 / 4:3 aspect ratio
Interchangeable pewter, shale and black trim rings and snap-on covers
Audio / video inputs for additional source units
USB / SD inputs for digital media (4GB max on SD card)
Audio / video output
---
---
Myron & Davis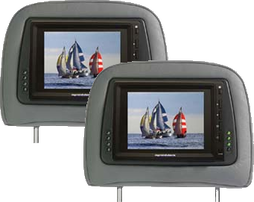 As a pioneer and leader of the Mobile Video industry, Myron & Davis is constantly seeking improvements in its existing products while searching for new solutions to the challenges of modern vehicle integration.

Headrests Monitors with built in DVD players, standard and multiple A/V source capability, give users the ability to switch between the driver side DVD player, the passenger side DVD player or an auxiliary input. Just like our overhead combo flip-down units, Myron & Davis combo headrest systems come with a wireless FM modulator for shared listening through the vehicle audio system or IR transmitters which allow private listening with included wireless Headphones.
---
---
Rosen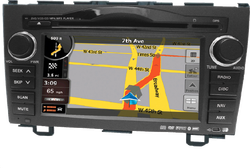 Have you been keeping up with what's going on at Rosen?…They exploded on the in-dash scene with a line of exciting multi-media navigation systems in 2008 and have tripled their product line since then. These are Plug-N-Play, meaning they replace the factory radio and plug into the factory harness with full function of the vehicles steering wheel controls (if so equipped). All features or interfaces are built-in and options include: iPod™ connection cable, Sat tuner kit, back-up camera and back-up sensors. The Universal 2DIN includes all of the features of the Factory-Look models, including a "Built-In" steering wheel control interface, but may require a vehicle specific installation kit and wiring harness adapter. This model features a fixed-face design so disc ease of use is improved over motorized screens.
---
---
Kenwood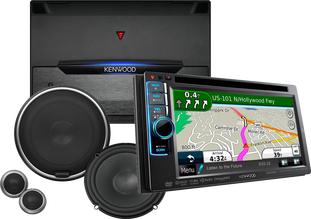 Live Connected. Drive Connected.

For over 25 years, Kenwood car entertainment has delivered quality audio products with cutting-edge technologies. From high-speed iPod connectivity on our receivers and multimedia products, to OEM integration and our celebrated line of speakers and amps, Kenwood continues to blaze trails with easy-to-use products that work seamlessly and sound great.
---
---
PAC Audio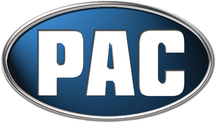 The Pacific Accessory Corporation - better known as PAC - has been a major player in the OEM integration business since the 1970's, back when the 8-track player was the iPod® of the day and replacing a radio involved hours of cutting and splicing.

Fast forward 30+ years to the present and PAC is an established and trusted leader in the mobile electronics industry and the world's largest and most advanced supplier of OEM integration solutions.

---
---
---
Metra


Metra always strives to listen to the customer. For over 60 years, Metra has maintained its cutting edge by paying attention to the marketplace and innovating products to fit the needs of the installer. They are the "Installer's Choice" because they are installers.

They design their products to be easy to use and easy on the eyes. If you can see a Metra product, then they haven't done their job. Metra Turbokits are designed to be heard but not seen. This means that the fit and finish is the best in the business. Why trust your installation to a shoddy and time consuming kit?
---
---
---